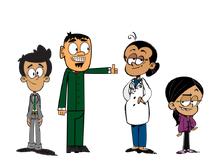 The Santiago Family is an upper class family. It is composed of Robert Sr., Mary, Robert Jr., and Veronica. From Mary's side, they are related to the Vasquez family, another wealthy family, and from Robert Sr.'s side, they are related to Roberto and Ronnie Anne.
Family members
Children
Parents
Other relatives
Joseph Santiago (born 1965)
Michael Santiago (born 1962)
Michael Santiago Jr. (born 1992)
Paul Santiago (born 1994)
Valentina Santiago (born 1999)
Alejandro Santiago (1931-2012)
Isabel Santiago (1932-2015)
Bobby Santiago (born 1999)
Ronnie Anne Santiago (born 2005)
Maria Santiago
Roberto Santiago Sr.
Louis Vasquez (born 1936)
Rosalita Vasquez (born 1938)
Charles Vasquez (born 1966)
Gabriel Vasquez (born 1968)
Charles Vasquez (born 1997)
Anthony Vasquez (born 1999)
Alexander Vasquez (born 2005)
Hector Casagrande (born 1954)
Rosa Casagrande (born 1954)
Carlos Casagrande (born 1974)
Frida Puga Casagrande (born 1975)
Carlota Casagrande (born 1999)
Carlos Casagrande Jr. (born 2003)
Carlino "Carl" Casagrande (born 2010)
Carlitos Casagrande (born 2014)
Ad blocker interference detected!
Wikia is a free-to-use site that makes money from advertising. We have a modified experience for viewers using ad blockers

Wikia is not accessible if you've made further modifications. Remove the custom ad blocker rule(s) and the page will load as expected.