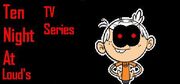 Ten Nights at Loud's
is a TV Series Premiere In 2016 October Of 31, Is A Pizzeria New in Royal Woods With Animatronics and Founders As: Loud Parents.
Characters
Humans
Lincoln Loud
Lola Loud
Lana Loud
Luna Loud
Lynn Loud
Luan Loud
Lisa Loud
Lily Loud
Lori Loud
Leni Loud
Lucy Loud
Clyde
Loud Parents
Purple Clyde
Animatronics
Normal
Golden Lincoln Loud
Lincoln Animatronic Loud
Luna Animatronic Loud
Leni Animatronic Loud
Lynn Animatronic Loud
Lucy Animatronic Loud
Lisa Animatronic Loud
Luan Animatronic Loud
Lily Animatronic Loud
Lori Animatronic Loud
Lana Animatronic Loud
Lola Animatronic Loud
Ms. Animatronic Loud
Mr. Animatronic Loud
Clyde Animatronic McBride
Phantom
Phantom Lucy
Phantom Lily
Phantom Lori
Phantom Leni
Phantom Luna
Phantom Luan
Phantom Lana
Phantom Lola
Phantom Lisa
Phantom Lynn
Nightmare
Nightmare Lincoln
Nightmare Luna
Nightmare Leni
Nightmare Lisa
Nightmare Lily
Nightmare Lori
Nightmare Lynn
Nightmare Lucy
Nightmare Lola
Nightmare Lana
Nightmare Clyde
Nightmare Dad and Nightmare Mom
Others
Trivia
This TV Series No has Introduction If not A Game Menu's Ten Nights at Loud's In First Episode Yes Press New Game and Load Game The Title from the Episode Appear and Appear A Background Black Before from The Title.
In Season 1 is Based in First Game Ten Nights at Loud's.
There are A File EXE As: TNAL-TVSeries.exe This File Has A Game Menu Yes Press New Game and Load Game is Similar in TV Series Real.
In Version DVD Is Use A Control Remote Similar in Game Console But Different Instead's A Horizontal is a Vertical, In Real World in The Version DVD Has Cost 9.99 After 2017 Has Popular Cost 500.
In Real World The Pizzeria Exist in Part U.S. state of Michigan in A City.