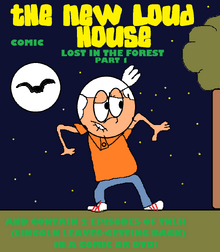 The New Loud House Comic:Lost in the Forest is a comic sequel of two parts what you can buy for 41,68$,and contain two episodes of the TNLH First season(Lincoln Leaves and Getting Back!).
Plot
The Loud family go to a camp in the forest,but Lincoln and her sisters are lost,he have to survival with forest materials.But he is scared. 
As is the comic?
The comic begins with the Louds preparing for the travel to camping the forest,Lana is very emocionated,for the dirty stuffs have in the forest,Lola is a little angry,but when look a dress shop,she is emocionated,Lori look the form for a Wi-Fi connection for the phone,Lincoln end,as her sisters,and all go to Vanzilla(when,the Winner is Lucy),and when go to the forest,preparing the camping shop,and the fire & auxiliar stuffs,all go to walk around a mountain for end in the high,and down,But Lori shups to all and fall,but when Loud parents talk to the kids what go for look the forest,and obedense the order,but she!Lost!,all are scared and preparing all the stuffs for survival,for luck,have a little sea,and all preparing a part for Lincoln,and a part for the sisters,Lincoln,piding the shampoo to Luan,but the shampoo are open and enter in the Lincoln's eyes,all go for put the vestiments,and Lincoln remember what all sleep in the same camping shop(and think in the susects of Space Invader)but no worring and when is of night,all sleep in the big camping shop,but Lana is go to the bathroom,is a little scared,but go with nothing troubles,and go of new to sleep,in the other day,Lincoln and her sisters want a !Little Cat!and go for protect the cat for no have bad siblings.
They go around the mountain with the Little Cat,are very happy,and end in the high of the mountain,Lincoln,accidentally tropezing with a Cactus,and fall of the mountain!!!,The Loud sisters run down,and for Lucky,save to Lincoln,and go to play a moment for her funny,Lincoln go to want limbs for the fire,but he look a bear around of he,and he is traumatized,and keep for the bear.
Part Two
TBA:To Be Announced
This part is announced for the 28,February.
Curiosities
The episodes Lincoln Leaves and Getting Back,you can look on DVD or in Comic!!!