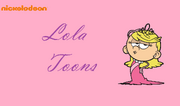 Lola Toons
is a series created by
MichaelWilemonTheMime
and
TheAnimatorCartoonistDude
.
Episodes:
1: Lola's New Teacher
2: Lola's Sleepover With Lana
3: Lola and Lana's Reunion
4: Lola Practices.  
5: Lola Dies? (Spoiler alert: She doesn't. Otherwise it will end the series.)
6: Lola Drives The Car
Session 2 Coming December 23, 2016
Characters
1: Lola
2: Lana
3: Lincoln
4: Rita
5: Lynn Sr.
6: Lori
7: Lynn Jr.
8: Lucy
9: Clyde
10: Luan
11: Lily
12: Leni
13: Luna
14: Lisa
Lola Toons is an new series in The Loud House Fanon Wiki

Realized: The Loud House Fanon Wikia
Country found London
Created: September 2016
First episode: 2016
Last episode 2019
Creator: User:MichaelWilemonTheMime
Co-creator: User:TheAnimatorCartoonistDude
Logo designed by: User:TheAnimatorCartoonistDude
Ad blocker interference detected!
Wikia is a free-to-use site that makes money from advertising. We have a modified experience for viewers using ad blockers

Wikia is not accessible if you've made further modifications. Remove the custom ad blocker rule(s) and the page will load as expected.