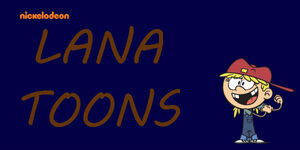 Lana Toons is a spinoff of The Loud House. It's made by Sumo Corp.  
"There's Nothing Here!"

This article is a

stub

. You can help The Loud House Fanon Wikia by

expanding it

.
Characters
Main Characters
Lana Loud is a 6-year old girl who mostly acts like a boy.
Izzy is Lana's pet lizard after Lola buried Symour (Lana's old frog).
Lincoln Loud is Lana's older and only brother who interacts with Lana and hangs out with Clyde McBride.
Supporting Characters
Clyde McBride Lincoln's best friend.
Lori, Leni, Luna, Luan, Lynn, Lucy, Lola, Lisa and Lily Loud Lana and Lincoln's nine sisters which never talk to Lana very often,but Lana and Lola share a room.
Lynn Sr. Lana's dad.
Rita Loud Lana's Mom
Mak The school bully.
Episodes
Season 1(July 29,2016-October 8,2016)
Template:MAIN:Lana Toons (Season 1)
Season 2 (December 29 2016-2017)
Shorts
Lana thinks Izzy needs a red collar.
Cancelation
On May 27,2017 the creator (DcjCrendle) announced that the show would be cancelled and the reason for cancelation would be announced at a later time.
Crew
News
July 22:Lana Toons is announced.
July 29:Lana Toons is premiered.
September 17:NEW Lana Toons episodes move to Saturdays.
October 8,2016:Season 1 finale
December 29,2016:Season 2 preimere.
May 27,2017 Announcement for cancelation.