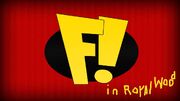 Freakzoid! in Royal Woods
is a TV Series's Warner Bros Fan Made Based in The Loud House and Freakzoid!,.               
The TV's Freakzoid Shipping To Freakzoid To Royal Wood A Location Where Is A Hero What Help To Lincoln Loud With The HandUnit A Robot Hero What Is The Companion's Freakzoid with The Help 10 Sisters's Lincoln Loud.
Episodes
Season 1 (2016)
Coming Soon...
Season 2 (2016-2017)
Season 3 (2017-2018)
Season 4 (2018)
Characters
Main Characters
Ad blocker interference detected!
Wikia is a free-to-use site that makes money from advertising. We have a modified experience for viewers using ad blockers

Wikia is not accessible if you've made further modifications. Remove the custom ad blocker rule(s) and the page will load as expected.