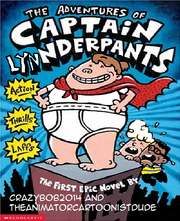 Captain Lynn-derpants is a show about Lynn Loud, who gets hypnotized by Lincoln Loud and Clyde, and becomes a superhero from the boys' comics as she gets all these superpowers from hy hypno-underpants, like flying, superpowerful farts, and super strength.
Crew
B-Master: Co-creator, Writer, Director, Executive Producer
TheAnimatorCartoonistDude: Co-creator, Writer, Director
American Titan: Writer, Creative Director
Characters
Lynn Loud/Captain Lynn-Derpants:
Episodes
Season 1
Pilot: The First Epic Episode- Lynn gets hypnotized by Lincoln and Clyde and turns into a superhero./1B: Rise of Blabbermouth-
2A: My Fair Lynnie- When Ronnie Anne starts abusing Lincoln in their relationship, Clyde decides to give Ronnie some stiff competition by disguising Captain Lynn-derpants up as the new hottie in a double date. 2B: Lights, Camera, Finish That Sentence!- The boys and Lynn were signed up to star in a movie, directed by a Jewish villain in disguise.
3A: Stomach Aches/3B: Itchy Bush-Pants- TBA
4A: Lori-suda/4B: The Queen of Rock- TBA
5A: Night of the Were-Leni/5B- TBA
6A/6B- TBA
7A/7B- TBA
8A/8B- TBA
9A/9B- TBA
10A/10B- TBA
11A/11B- TBA
12A/12B- TBA
13A/13B- TBA
14A/14B- TBA
15A/15B- TBA
The End of Lynn-Derpants?- Season finale. TBA.